2009 Ford Mustang Values
For 2009, the Ford Mustang, which comes as a coupe or convertible, gets enhanced standard and optional equipment; most notably, the base and GT Premium trims now sport upgraded interior detailing, multicolored ambient lighting and satellite radio, while a new glass roof is optional. With rear-wheel drive as standard, the base Mustang is powered by a 4.0L V6 engine that produces 210 hp and 240 lb-ft of torque teamed with a five-speed manual transmission. The Mustang GT features a 4.6L V8 engine generating 300 hp and 320 lb-ft of torque. With the manual transmission, the GT can achieve 0-60 mph in 5.7 seconds. A five-speed automatic transmission is optional on all trims, except the high-powered Ford Mustang Shelby GT, which is propelled by a 5.4L V8 engine that screams out 500 hp and 480 lb-ft of torque. EPA-estimated fuel economy is 17 mpg city/26 mpg hwy for the V6 and 15/23 mpg for the V8, while the Shelby gets 14/20 mpg. Four-wheel disc brakes and front-seat side airbags are standard across the board, while antilock brakes and traction control are optional on the V6 and standard on the GT. The Mustang's aggressive exterior design is matched by an equally appealing four-passenger interior that features body-hugging front bucket seats and a split-folding second-row seat.
Read more
Read less
2009 model year changes
View changes

+
A new glass roof option, optional on the V6 and GT Mustang Coupe models, is the big news in the Mustang lineup for 2009. Standard equipment on the Premium models has been expanded to now include a satin aluminum instrument panel, ambient lighting, and satellite radio, and a new Security Package with wheel locks and an upgraded alarm system is now available on the GT.
Competitive comparison
View advantages

+
Performance; value; retro styling; extensive options list
Special features for 2009
View special features

+
The Ford Mustang is a modern sports coupe that's quite satisfying to drive either in coupe or convertible form while carrying on the appearance cues of the original 1960s pony car. In base V-6 or GT form, the Mustang represents a very strong value compared to most other sporty coupes, while the convertible ranks as one of the best ways to go top-down without breaking the bank.
Which aspect of the Ford Mustang do you find most appealing?

Select a 2009 Ford Mustang trim level
Mustang-V6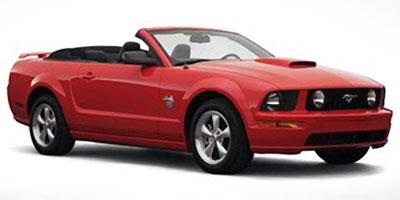 Mustang-V8