2011 Big Dog Wolf Options, Equipment, and Prices.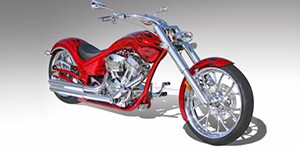 Select 2011 Big Dog Wolf Options
Possessing the largest motor found in the 2011 Big Dog line-up, the Wolf is a big, long, powerful custom motorcycle. Based on a wheelbase spanning 83.5 inches in length, the 2011 Big Dog Wolf is styled with a 45-degree total rake. A Perse Performance telescopic front fork supports a 23-inch front wheel of the 2011 Big Dog Wolf. At the rear, a twin-sided swing arm includes dual shock absorbers. Power for the 2011 Big Dog Wolf is derived from a 1,976 cc S&S X-Wedge V-twin engine. A four-stroke engine featuring fuel injection, the S&S X-Wedge powerplant generates about 90 horsepower and 110 pound-feet of torque. Engine power is channeled through a Baker six-speed manual transmission for the rear wheel. Gripping onto pullback handlebars, the rider of the 2011 Big Dog Wolf is positioned 25.5 inches over the ground. The 2011 Big Dog Wolf can be ordered with seating for solo riding or with the capacity for two passengers. Additional accessories available on the 2011 Big Dog Wolf include a choice of windshields, luggage rack, alternative handgrips and foot pegs.
Read more
Read less
EXTERIOR
Suggested
List Price
Hand Grips
$150
Rider Foot Pegs
$100
Air Cleaner Cover Kit
$104
Passenger Foot Pegs
$99
GLASS
14-Inch Sport Windscreen - Clear
$350
14-Inch Sport Windscreen - Tinted
$350
16-Inch Sport Windscreen - Clear
$375
16-Inch Sport Windscreen - Tinted
$375
SEATS
Two Passenger Seat
$500
Backrest Pad
$111
CONVENIENCE
Lever Set
$220
STORAGE
Touring Tailbag With Top Roll
$200
Sport Pack Tail Bag
$150
Leather Sissy Bar Bag
$120
Bike Cover With Sissy Bar Pouch - Small
$230
Form Fit Bike Cover
$230
Tool Roll
$89
Luggage Rack
$210
Bike Cover With Sissy Bar Pouch - Large
$230
MOUNTS
Sissy Bar System
$350
Backrest Pad Mounting Plates
$65