2010 Pace-Arrow M-38P 24K (Ford 362hp 6.8 Liter) Equipment: Prices and Specs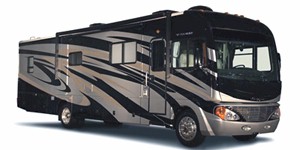 Select 2010 Pace-Arrow M-38P 24K (Ford 362hp 6.8 Liter) Options
Notes:
Manufacturer note(s):
MOTORHOMES - Did not manufacture from 2011-2015
Year note(s):
In addition to what is standard, prices include satellite radio, Power Sunvisor/Manual Shade Package, side dinette, queen air mattress, exterior entainment center, dual air conditioner with heat pump and solar panel, front mask, auto satellite dish, and neutral loss protection.
Read more
Read less
OR select options and enter mileage below
Mileage MAY be taken into consideration for gas engine only.
Enter Mileage: (DO NOT use for diesel engines)
*Invalid mileage character entered!
Option note:
Only select options below that are in
addition
to standard equipment and equipment noted in the manufacturer or year notes show above. If you are uncertain of what came standard, please contact your manufacturer with your VIN.
AIR CONDITIONING AND HEATING
APPLIANCES
ENGINE AND SUSPENSION SYSTEMS
ENTERTAINMENT
GENERATORS
JACKS AND LEVELING SYSTEMS
MISCELLANEOUS OPTIONAL EQUIPMENT