2012 Indian Motorcycles Chief Dark Horse Options, Equipment, and Prices
Select 2012 Indian Motorcycles Chief Dark Horse Options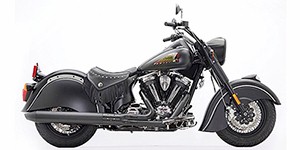 Fast Facts
The first model year of construction for Indian Motorcycle Company under the ownership of Polaris Industries, the Chief is a premium motorcycle created on a 1940s or 1950s style theme. Featuring a classic cruiser motorcycle configuration on a high tensile steel frame, the 2012 Indian Chief line consists of three trims. Contrasting the vintage appearance, the mechanics of the 2012 Indian Chief motorcycle is actually quite modern. Front and rear wheels on all 2012 Indian Chief motorcycles enlist the stopping power of disc brakes. Another element of 21st century engineering is found with the air-cooled 105 cubic inch engine. Electronic fuel injection with heated oxygen sensors provides the consistent, responsive power today's riders expect from a motorcycle. Retro-styled with a use of leather, chrome and large wheel fenders, the 2012 Indian Chief Classic is still a mean-looking single seat motorcycle. Similar to the Chief Classic, the 2012 Indian Chief Dark Horse receives a blacked-out treatment to the exhaust pipes, engine as well as to the front fork and handlebar. Recreating the idyllic image of old time two-passenger touring motorcycles, the 2012 Indian Chief Vintage is standard equipped with a windshield, auxiliary driving lamps and leather saddlebags. The passenger seat on the 2012 Indian Chief Vintage is detachable for when riders want to make a solo trek. The 2012 Indian Chief Vintage can also be ordered in a high style two-tone paint schemes.
Indian Motorcycles Note
MOTORCYCLES/ATVS/UTILITY - Due to limited resale market, we are unable to determine used values.